Recording and performing artist "Brigitte" is a Canadian singer/songwriter/keyboardist. Her musical genres include hot AC, pop, classical instrumental, country, classic rock, and film/tv.
Lavender Breeze
"Lavender Breeze" - relaxing piano music coming this summer!
Brigitte is currently recording a new relaxation album centered around the acoustic piano tuned down to A=432 Hz which is a slightly lower pitch than the current standard A=440 Hz. It is perceived by many to have a more mellow and pleasant tone and some spiritual practitioners note its calming properties on the body and mind. Hints of other classical instruments like harp and cello will be featured as well as non-lyrical vocal harmonies. It will be the perfect album for yoga, meditation, baby's sleep time, a spa day, or just to unwind after a hectic day. 
Tip Jar!
Appreciate music creators? Want to help a little or a lot? Here's a way!
Enter the amount you wish to donate
Barren
Brigitte's latest recording, "Barren", was inspired driving along a dry, deserted stretch of highway after her dad passed away. "No matter how lonely or empty you feel inside, there is always something beautiful to be found, you just have to be patient and look for it. You can visit her video pitch page by clicking the pic!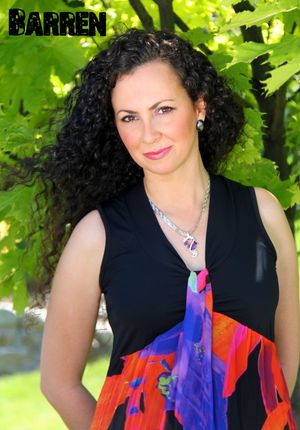 I'm Not Lame Anymore
Brigitte was commissioned to write an 80s inspired song for the "Fools for Hire" webseries highlighting a montage. They needed a spoof version of their temp track "Fame". This particular episode has been accepted into the Vancouver Webfest in March and has been nominated for Best Comedy Webseries and Best Original Score!
Here is a clip of the song

"I'm Not Lame Anymore"
Video will be posted as soon as it's available.
Recording, Vocals, Keyboards- Brigitte
Guitar tracking- Chuck Davies
Mastering (and a lot of help)- Jeff Long
Christmas CD "Icicles"
Tracy and Brigitte are excited that their
EP "Icicles"
is now available worldwide on all major download sites! "Icicles" is a sweet, heartwarming collection of 5 original songs filled with angelic harmonies and light arrangements centred around the piano- just like good times at Christmas with family and friends!